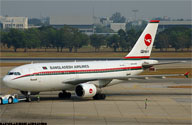 Bangkok - A hijacker on Tuesday forced a Biman Bangladesh Airlines flight from Malaysia to land at Bangkok's Don Mueang Airport, media reports said.


The hijacker, reportedly a Malay native, was taken into custody after the plane landed in Bangkok, said the Bangkok Post online news service.
The pilots first asked for an emergency landing at the Suvarnabhumi Airport, Bangkok's new international airport, but airport officials asked them to land instead at Don Mueang, now a domestic airport.
The plane BG 042 reportedly carried about 40 to 50 passengers.(dpa)